In today's modern world, switching on the computer at home has become as routine as turning on the faucet to brush your teeth.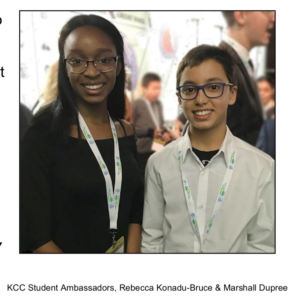 It is more than a convenience, but rather an essential component of everyday life for school, business and social relationships.
And yet, it is easy to forget that many children do not have access to a computer at home – even in Canada. Kids Cops & Computers, a visionary initiative by the Merry Go Round Children's Foundation, is slowly changing this reality.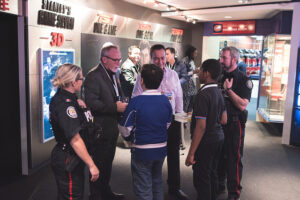 "The Kids, Cops & Computers program has changed a lot in my life," said Marshall Dupree, a KCC student ambassador. "I am now able to spend more time doing my assignments in my home and my marks have improved."
Dupree, along with Rebecca Konadu-Bruce, offered what was the most poignant moment at the recent Celebrity Sports Mixer last month.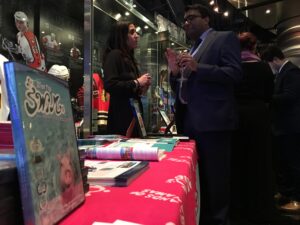 More than 600 attendees, many of which were celebrities from a variety of industries, packed the Hockey Hall of Fame in support.
The Foundation (WCPD) was honoured to serve as a Platinum Sponsor for the event and provide the grand prize for the silent auction, which included a one-week stay in a luxury two bedroom villa at Grand Isle Resort in Exuma, Bahamas. Air Canada Vacation also partnered for the event and provided two seats on their direct flight on Sunday from Toronto to Exuma.  
By the end of the night, the event managed to raise almost $400,000 in net proceeds to support the Kids, Cops & Computers program.
The funds raised will support the participation of more than 725 deserving students participating in the program in the Greater Toronto Area (GTA) and across Canada this year.
In addition to providing computers for under-privileged children, another unique aspect of the program is the participation of law enforcement officials that actually interact and offer training with the computers.
In the process, it breaks down barriers between groups and humanizes those that keep our society safe.
For 14 years in a row, G. Scott Paterson, the Chair and Founder of the Merry Go Round Foundation, has championed this event. Other major sponsors included Symbility, TD Bank, The Slaight Family Foundation, Pioneer, Big Dougie Capital Corp, PowerOne, Canaccord Genuity, Quinn's Steakhouse and Irish Bar, Kevin & Linda O'Leary, Wildeboer Dellelce LLP and Trapeze.
"I felt very privileged to not only make a contribution to this great cause, but also see the event up close," said Peter Nicholson, the President of The Foundation (WCPD).  "Technology in the home is something I think many of us take for granted. I tip my hat to Kids, Cops & Computers for identifying this need and making such an amazing difference over the years. We are happy to play a small part in this story."