More than 500 people attended 100th year celebration at Canadian War Museum
One hundred years ago, when the Canadian National Institute for the Blind (CNIB) was founded, blind citizens in this country were not allowed to vote. This basic right was only achieved in 1930.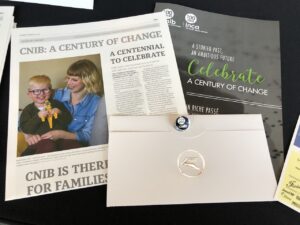 Today, the Honourable Carla Qualtrough, a federal cabinet minister with visual impairments since birth, congratulated CNIB on its centennial celebration from the stage at the Canadian War Museum.
A remembrance of the past and a vision for the future were the prevailing themes at last night's 100th anniversary celebration. Hosted by media legend Craig Oliver, the evening also featured remarks from the Honourable Kristy Duncan, Minister of Science and Minister of Sport and Persons with Disabilities, along with several senior CNIB executives. With a hint of emotion in her voice, Duncan shared how members of her own family have been impacted by sight disabilities.
Many volunteers, donors and employees were honoured for their achievements.
It was a poignant event that reminded more than 500 attendees just how far CNIB has come since it was founded shortly after World War I, back in a time when for many blindness meant poverty and discrimination.
"An organization like ours will never forget our past," said John M Rafferty, President and CEO of CNIB, who is spearheading dozens of similar events across Canada this year to commemorate the 100th year.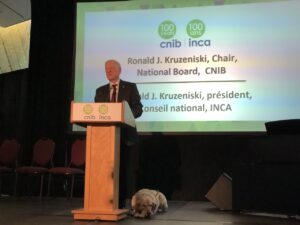 "It is the foundation on which we stand today. The future is about technology and inclusion, and in some ways imaging what Canada would need to look like for CNIB to not to exist."
In other words, the work is far from over for the hundreds of thousands of Canadians living with blindness or visual impairment.
Moving forward, he identifies the two top priorities for CNIB: boosting employment for blind and visually impaired Canadians, and getting new technologies in their hands to improve quality of life.
Jim Sanders, 71, is one of those individuals whose life has been changed by technology.
Born in Fort William, Ontario, in 1947, he remembers working with CNIB from the very beginning. He was born with just 10% eye sight capacity at birth, and then became completely blind about 35 years ago.
"One thing hasn't changed – that's getting through the initial stages of sight loss," Sanders said. "What has changed, is that 20 years ago I managed 5% of the information that came in my mail box or across my desk. I manage 95% now. That is the biggest change. Computers and other devices have been a game changer."
Text reading software for smartphones, wearable devices that offer text-to-speech in your ear and a clip for your belt that uses ultrasound to detect obstacles in the user's path are just some of the new technologies that allow the blind to live a better life.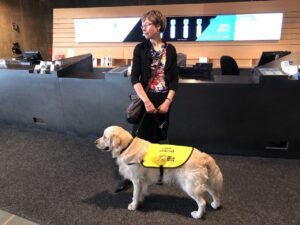 Armed with new technology, CNIB has never felt more optimistic about the future. Rafferty said these innovations and improved social integration of Canada's blind and visually impaired will go hand-in-hand as CNIB works toward its next centennial.
"I won't try to predict that they country will look like another years from now," Rafferty added. "Given where we have come from, I can't even imagine where we will be 10 years from now."