BY: Caroline Phillips for the Ottawa Business Journal
Not a day goes by when Roger Greenberg isn't planning, preparing and continually working on the largest and most ambitious fundraising campaign in our city's history to build a new hospital campus that he believes will revolutionize health care for Ottawa residents.
"I think about it all the time; I think about it, like, 24/7," said Greenberg of his ongoing efforts to drum up half a billion bucks for The Ottawa Hospital's $2.8-billion campus development on Carling Avenue, next to Dow's Lake. "I'm working harder now at 66 than I ever have in my life."
About 80 per cent of the funding for the new campus is coming from the Ontario government, but that doesn't mean Ottawa residents are off the hook; the city still has to dig deep into its own pockets to come up with its share.
That's where Greenberg comes in. The Ottawa-born-and-raised businessman, with his decades of experience as a volunteer fundraiser and his deep roots in the community, is chairing the $500-million Campaign to Create Tomorrow. The campaign has already quietly raised $216 million toward its goal.
"It's a big team effort," said Greenberg, who's working closely with The Ottawa Hospital and its foundation staff and volunteer board members, along with the Campaign to Create Tomorrow executive made up of fellow community leaders.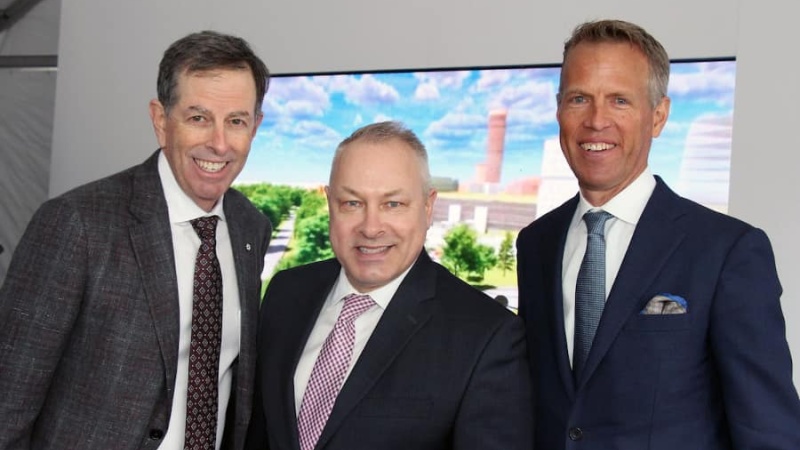 "I have one focus, and it's to raise $500 million," he said during an early morning interview at Sunset Grill, an all-day breakfast restaurant at Lansdowne. "We think a $500-million goal is very realistic. It's the largest campaign in the city's history, but it is doable."
Greenberg has many leadership roles, including as executive chairman of The Minto Group, a family-owned, billion-dollar real-estate company based in Ottawa.
Minto Group's shareholders have stepped forward with a $25-million gift for the campaign, the single largest health-care gift in the history of the city.
The amount was announced earlier Tuesday at the launch of Campaign to Create Tomorrow, held at the future hospital campus site. 
"This community has been hugely important in our family's success and this gift is a way to give back," said Greenberg, who couldn't be more proud of where the funds are being directed.
"This is going to revolutionize health care in the City of Ottawa in every way. It's not just a question of drinking the Kool-Aid; I truly believe that this is going to be transformational for the City of Ottawa, in terms of how health care is going to be handled."
The new health-care hub, which will feature the largest academic research hospital in the country, is expected to open in 2028. It will replace the nearby Civic, originally built in 1924 and paid for by the community. That's where Greenberg's parents were born, followed by him and his five siblings, followed by two of his own three children. The streak could end there (his first grandchild is due to be born later next month in Toronto).
As for the Civic, it's aging, outdated and has run its course, said Greenberg. 
"It's a fossil. We are trying to run the latest software on outdated hardware."
Greenberg was heavily involved with the hospital foundation's turn-of-the-century $100-million Legacy Campaign and also served as honorary chair of its campaign to build a new cancer centre on the General campus. His philanthropic focus on health care comes, in part, from losing his father Gilbert to a heart attack at 57 and his mother Bessie (Levitan) to cancer at 59.
Greenberg has been working closely with Tim Kluke, president and CEO of The Ottawa Hospital Foundation, and Cameron Love, president and CEO of The Ottawa Hospital, just as he did in years past with their predecessors, Susan Doyle and Dr. Jack Kitts, respectively.
"There was only one clear choice and that was Roger Greenberg to chair this campaign," said Kluke of a leader who has a high profile, the respect of the community, an affiliation with the hospital and a deep appreciation for and understanding of philanthropy. Greenberg is also executive chairman and managing partner of the Ottawa Sports and Entertainment Group and one of the business leaders who helped to redevelop Lansdowne Park.
"He is the most engaged campaign volunteer that I have worked with in my career," said Kluke, who communicates daily with Greenberg about the campaign – even on weekends.
Greenberg's approach to fundraising is inspired by the late Barbara McInnes, who saw it as her role, when she was CEO of the Ottawa Community Foundation, to educate and inform the public.
"I'm not a high-pressure salesman; I'm not selling anything," said Greenberg. "All I'm doing is bringing an opportunity to your attention. I don't get a commission. Well, I might when I go Upstairs and The Big Man looks at my life and says, 'Hmm, you did really well with that campaign.'"
Fundraising isn't for everyone, he recognizes.
"The toughest nine words for a canvasser to say are: 'We'd like you to consider a gift of ____ dollars.'"
Since December 2019, Greenberg has been canvassing behind the scenes, asking donors to consider giving more than they've perhaps ever given before. Planning for the campaign began two years before that. 
Greenberg prefers in-person meetings to Zoom and isn't shy about asking for a specific amount, even if it sends the donor into 'sticker shock'. Donors aren't pressured to make an immediate commitment; they're encouraged to take their time, to think things through. The campaign, said Greenberg, is designed to be flexible. Commitments can be made over years, until the end of 2029.
As well, modest gifts are welcome.
"I believe, fundamentally, in the concept of gifts of equal sacrifice," he said. "Yes, it's not going to get us to the goal of $500 million appreciably, but so what? Every gift counts.
"This isn't a hospital for the wealthy. This is a hospital for everybody."
So far, support for the new campus has been "incredible," said Greenberg, who expects to make his presentation "hundreds" of times in his role as campaign chair. There have been 41 gifts of $1 million or higher made to date.
"I think there are a lot of people who feel as strongly as I do, and understand how transformational this will be for the people of Ottawa, and want to be part of it," he said.
One of his most memorable meetings involved Kingston businessman and philanthropist Britton "Brit" Smith, founder and executive chairman of Homestead Land Holdings, which owns apartment buildings across Ontario, including in Ottawa.
Smith, who's 102 years old, is a decorated Second World War hero. He took a shine to Greenberg after learning he's an honorary colonel with the 30th Field Artillery Regiment. Smith was in the artillery.
Michael Runia, chair of the hospital foundation's board, believes the secret to Greenberg's fundraising success is twofold: he's not afraid to ask for money and he understands the critical need for a new hospital facility.
"Roger is a community-minded individual; he lives and breathes this city," said Runia, who's also a partner and chief investment officer at Nautical Lands Group. "Roger knows how to lead; he knows how to galvanize people and really bring them to the task at hand. He's very results-oriented."
Runia is also a member of the campaign's executive cabinet with Greenberg, former tech executive Rob Ashe, longtime hospital supporter Whitney Fox, health care CEO Katie Lafferty, serial entrepreneur Bruce Linton, CLV Group/InterRent REIT CEO Mike McGahan, Janet McKeage from RBC Wealth Management, prominent Indo-Canadian member Dr. Pradeep Merchant, lawyer Stephen Victor from Victor Vallance Blais LLP and Farm Boy partner Jeff York.
Greenberg's involvement in his community comes down to a simple Jewish value:
"tikkun olam". It literally means "to repair the world".
"More broadly, it means you have an obligation to leave the world a better place than you found it," explained Greenberg, a member of the Order of Canada (incidentally, for his philanthropic activities). "That's been at the core of my philanthropic activities for 35 years, and it's a really important family value that was transferred down to all of us from our parents.
"You can't just think about yourself; you have to think about the community that you live in, and to give back and help do things to make it better."
Read full story here